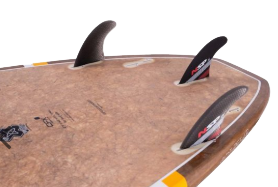 From $1,899.00
Sizes Available
The next evolution of NSP's popular DC Surf Wide range. This newly shaped DC Surf Wide is built with NSP's Patent-Pending CocoMat technology along with flax fibers on the rail sections and the entire construction is bonded with bio resin. The DC Surf Wide comes in three different sizes.
Features:
Square tail for extra speed and stability.

Single to double concave bottom with a slight vee through the tail makes this board a turning machine in small and mushy conditions.

The five fin boxes offer tri-fin or quad-fin setups to optimize the fin cluster for your style or for the surf conditions.

Outstanding strength to weight ratio utilizing exclusive Cocomat technology with eco-friendly bio-resin.

Ideal for the surfer looking for a highly durable, stable, responsive surf SUP to take their performance to the next level.
Shaped and designed by legendary shaper Dale Chapman (DC)
Length: 8'3 / 8'7" / 8'10"

Width: 32"

Thickness: 4.5 "

Weight: TBA

Volume: 141 Litres / 146 Litres / 151 Litres

Max Rider Weight: 100 K +

Rider Level: Beginner to Advanced